Uber/Lyft Passenger Injured Due To An Accident?
We're here to help.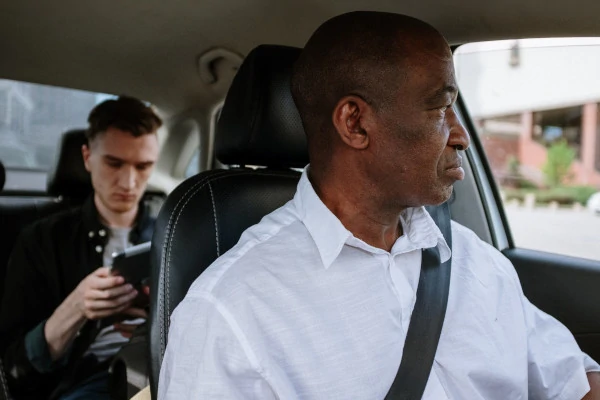 ACCIDENT? INJURY? START HERE.
It's vital that you understand how to protect your interests after a crash. Your actions and words can literally make or break your injury claim down the road. PASSENGERS CAN RECOVER MONEY FOR:
Costs of Medical Treatment
Lost Wages
Pain and Suffering
Loss of Normal Life
Disability Accomodations
Ambulance Services
Emotional Distress
Disfigurement
Loss of Property
Illinois' Comparative Fault System & Lyft Accidents
Illinois is a fault-based state, so courts can use modified comparative negligence to determine fault in car accidents. The driver or Lyft is liable up to a specific percentage they are deemed responsible for, however, a portion of the fault can still be placed on you.
What Is Lyft's Insurance Policy in an Accident?
The Transportation Network Providers Act requires Lyft to have automobile liability insurance of $25,000 for property damage, at least $50,000 for personal injury per person and death, and $100,000 for death and personal injury per incident. The insurance policy is for the time between when the driver logs into their app until a ride is accepted, and from the time when a driver completes their transaction.
Frequently Asked Lyft Accident Questions
We understand you may have questions about Lyft accidents in Chicago. Our experienced accident lawyers and experts will answer some of your most frequently asked questions.
What Should I do After a Lyft Accident?
If you are in a car crash in a Lyft, you should cooperate with law enforcement officers as they conduct their investigation. Never walk away from the scene and make your health your number one priority. If you need to seek medical treatment, immediately do so because injuries often worsen over time. For a full breakdown, please check out our Driver Checklist For Handling Accidents.
Can I Sue Uber or Lyft for Injuries?
Yes. Whether you were a driver, passenger, a pedestrian, or in another vehicle, you can sue Lyft for your pain and suffering.
Does LegalRideshare Handle Cases Outside of Chicago?
Yes. LegalRideshare handles accident and injury claims all over the country. We've helped thousands of drivers and won millions for our clients.
Which Insurance Companies Does Lyft Use for Coverage?
Never trust the insurance company. A partner to Lyft is not on your side. The most common insurance companies Lyft uses for coverage include:
Medical treatment
Mobilitas Insurance Company
Allstate Insurance Company
Progressive
What if the Insurance Company Makes a Settlement Offer?
A settlement offer often doesn't pay you what you deserve. Your Lyft accident lawyer will review the settlement offer to determine if you deserve more for your damages.
Choose LegalRideshare as Your Lyft Car accident lawyer
We don't get paid until you get paid. LegalRideshare puts your needs first to ensure you're paid the compensation you deserve for pain and suffering. Our LegalRideshare passenger accident lawyers are Chicago's premier source on rideshare-related issues, serving hundreds of clients and securing millions for our clients. Contact us today for a free consultation. We will fight for you!